Egypt 1999, Tunisia 2005.. now Egypt 2021 - The IHF Men's World Championship in Africa again
"It was an extraordinary feeling."
Those are the words from Stefan Lövgren, voted Most Valuable Player of the 1999 IHF Men's World Championship held in Cairo, Egypt, after his Sweden side took gold, defeating Russia 25:24 (12:14) in the final.
But those are not the words relating to the victory, or even his individual award – they are words said to ihf.info when asked how he felt back then as a player after the realisation that Sweden's 1998 EHF European Championship title win in Italy not only saw a gold medal but ensured qualification to the first-ever IHF Men's World Championship to be held in Africa – Egypt 1999.
It was the second time in history that the competition was hosted outside of Europe, coming directly after the 1997 IHF Men's World Championship in Japan where Lövgren and Sweden had won silver, losing to Russia in the final 21:23.
"Of course, first of all it was just happiness having qualified, but secondly, I remember that it was an extraordinary feeling," said the Swedish playmaker, who scored 46 times at Egypt 1999.
"It is not that often you get the chance to play in other continents, and the fact that the 1996 Olympic Games was in the United States of America and the previous world championship was in Japan, it was a special period which meant a lot of new impressions, on and off court, and that was to be the case also for Egypt in 1999."
Egypt 1999 was the fourth IHF World Championship hosted by the African continent with Nigeria having the honour of hosting the very first – the IHF Women's Junior World Championship in 1989. This was followed by the 1993 IHF Men's Junior World Championship, also in Egypt, and the 1997 IHF Women's Junior World Championship in Cote d'Ivoire.
1999 IHF Men's World Championship – Egypt
After a spectacular opening ceremony, full of colour, music and performers, when the whistle from French referees Francois Garcia and Jean-Pierre Moreno sounded at 21:30 on Tuesday 1 June 1999, it marked a piece of handball history: the first-ever senior World Championship had thrown-off on the continent of Africa.
And what a start it was. Host nation Egypt took on Brazil in the Main Hall of the Cairo Stadium Complex in front of an officially-recorded 22,000 fans and they went home happy thanks to a 28:19 (16:8) Egyptian victory over the South Americans. 
The 16th IHF Men's World Championship would feature a total of 80 matches across three venues in the capital Cairo and the north-eastern cities of Ismailia and Port Said. The event was organised by the IHF in partnership with the Egyptian Handball Federation, headed by their then president, now IHF President, Dr Hassan Moustafa. Egypt had won the right to host – and make history – after defeating a bid from France by 44 votes to 34 at the XXVIth Ordinary Congress of the International Handball Federation on the occasion of its 50th anniversary.
It was an historic championship for the Oceania Continent Handball Federation too, with Australia representing the continent for the first time, just six years after the foundation of the then named Oceania Handball Federation (OHF) 1993. In 1995 and 1997 there had been European Handball Federation vs OHF Play-Offs, both lost by Oceania, but by 1999 they had been granted their own qualification spot.
Australia were also joined by fellow senior men's IHF World Championship debutants, North Macedonia (then Macedonia) and Nigeria, in what would be the only appearance at the competition for the West African side to date.
For the Macedonians, they started in the best possible way – defeating Saudi Arabia in their first-ever game, 28:21 (16:11) in Cairo, but that would prove to be their only win, as they went on to lose their next four and fail to qualify through to the eighth-finals. Nigeria lost all five of their games, but impressed against Croatia, losing by just two goals – 25:27 (10:14).
The four preliminary groups were won by Spain, Germany and Russia with five wins out of five, while Sweden, with four wins and a draw, topped theirs – their opening match, a 25:20 win over Korea in Port Said, refereed by the Egyptian couple of Gamal Merghany and Hossein Towfik.
"We were greeted at the airport by a lot of schoolchildren and playing our opening match was no different to others," said Lövgren about arriving for Egypt 1999 and their opening victory. "After the Korea game a lot of the Egyptian media were more interested in the referees than the game or us, and that was not so usual – but in this case, it was understandable."
Africa saw three of their four teams qualify through to the eighth-finals with Morocco the only continental failure after, unbelievably, drawing three of their five preliminary group games, as fellow continental rivals Algeria and Tunisia progressed from their group. Hosts Egypt won four of their group games to move through too.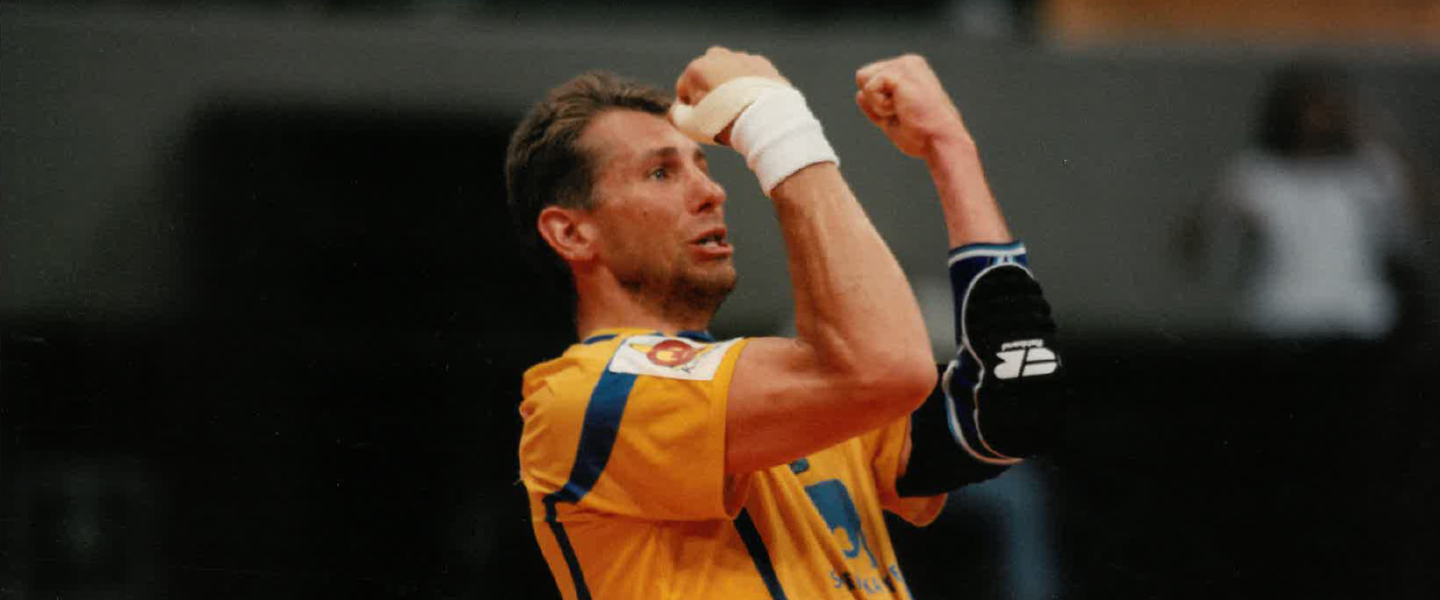 This set up an all-Africa clash for the host nation in the last 16, against Tunisia. With Egypt prevailing (24:22) and with Algeria losing to Germany, it meant Egypt were the final continental representative remaining. Other eighth-finals highlights saw Cuba defeat Denmark and Yugoslavia win against Croatia.
The quarter-finals saw Egyptian dreams of winning another IHF World Championship on home soil evaporate, just six years after winning the 1993 men's junior edition at the same venue, as they lost to Russia, who were joined in the last four by Spain, Sweden and Yugoslavia. 
Egypt went on to lose their 7/8 placement match to France after additional time, but it would lay the foundations for an impressive fourth spot in the European country at the next IHF Men's World Championship – France 2001, their highest ranking to date.
In the semi-finals, Sweden played Yugoslavia again, after the teams drew 22:22 in their preliminary group match. This time Bengt Johansson's Swedes took the victory 23:22 (12:11), and when Russia defeated Spain by one goal too (22:21), it meant an exact repeat of the previous IHF Men's World Championship final – the 1997 edition in Kumamoto, Japan.
Sweden got their long-awaited revenge in the final held on 15 June, eventually overcoming a first half deficit of two goals (12:14) and the loss of all-rounder Magnus Wislander to a red card after his third two-minute just after the break, to win 25:24 and take gold in a match which also saw two African match delegates on the IHF table – Algeria's Said Bouamra and Rachid Meskouri as IHF Timekeeper and IHF Secretary respectively. Yugoslavia defeated Spain 27:24 in the bronze-medal match.
Lövgren himself received and raised the World Championship trophy and the championship finished the way it began – with a mesmeric and beautiful display of performance, sounds and colours with a closing ceremony representing the best of Egyptian culture and with the Egyptian Head of State, President Hosni Mubarak, in attendance.
2005 IHF Men's World Championship – Tunisia
86 games across five venues in the North African country saw Spain win their first IHF Men's World Championship, defeating Croatia in the final 40:34.
The 74-goal gold-medal match in Rades remains the highest-scoring final in IHF Men's World Championship history and also saw Africa represented on the officials table with Algeria's Said Bouamra repeating his 1999 role and Egypt's Medhat Elbeltagy taking the role of IHF Secretary for the game.
24 teams were split across four preliminary groups at Tunisia 2005 with Angola making their debut appearance alongside Greece, who were following up their debut appearance at the Athens 2004 Olympic Games where they finished sixth.
All four groups threw-off at 17:00 on Sunday 23 January – in Rades, Tunis, Sfax and Sousse – and host nation Tunisia got off to a great start, defeating continental rivals Angola 39:23. The Tunisians remained undefeated in their group, winning three and drawing two to finish top. Angola got their debut win – against Canada – but failed to qualify through alongside the North Americans, with Greece, France and Denmark moving through to the eighth-finals. Greece lost to Denmark, drew with Tunisia and beat France, Angola and Canada.
All four European sides – Russia, Czech Republic, Slovenia and Iceland made it through from group B while Croatia, Spain, Sweden and Japan made it through from group C, joined by Egypt, Germany, Norway and Serbia and Montenegro from group D.
The main round split into two groups with the top two going straight into the semi-finals and Tunisia continued their good form, defeating Russia and Czech Republic and drawing with Slovenia to finish top of group I, with France in second, having recorded the same set of results. Croatia and Spain went through from Group II, which saw a new venue used, in Nabeul.
The home side then returned to Rades for the semi-finals, but lost 30:33 to Spain, with Croatia defeating France (35:32) in the other semi-final. 
Further heartbreak came for the hosts on the final day – Sunday 6 February – losing 25:26 to the French in a match full of passion and atmosphere and later in the day Spain, led by Juan Carlos Pastor, would be on the right side of 74 goals in that final, having been behind only once – in the first minute, with Juanin Garcia scoring 11 and goalkeeper Jose Javier (JJ) Hombrados, still playing to this day at the age of 48, for BM Guadalajara in Spain, making 10 saves. The result was revenge for Spain's 31:33 preliminary group defeat against the Croatians earlier on in the championship. That final day can be viewed here on the IHF YouTube channel.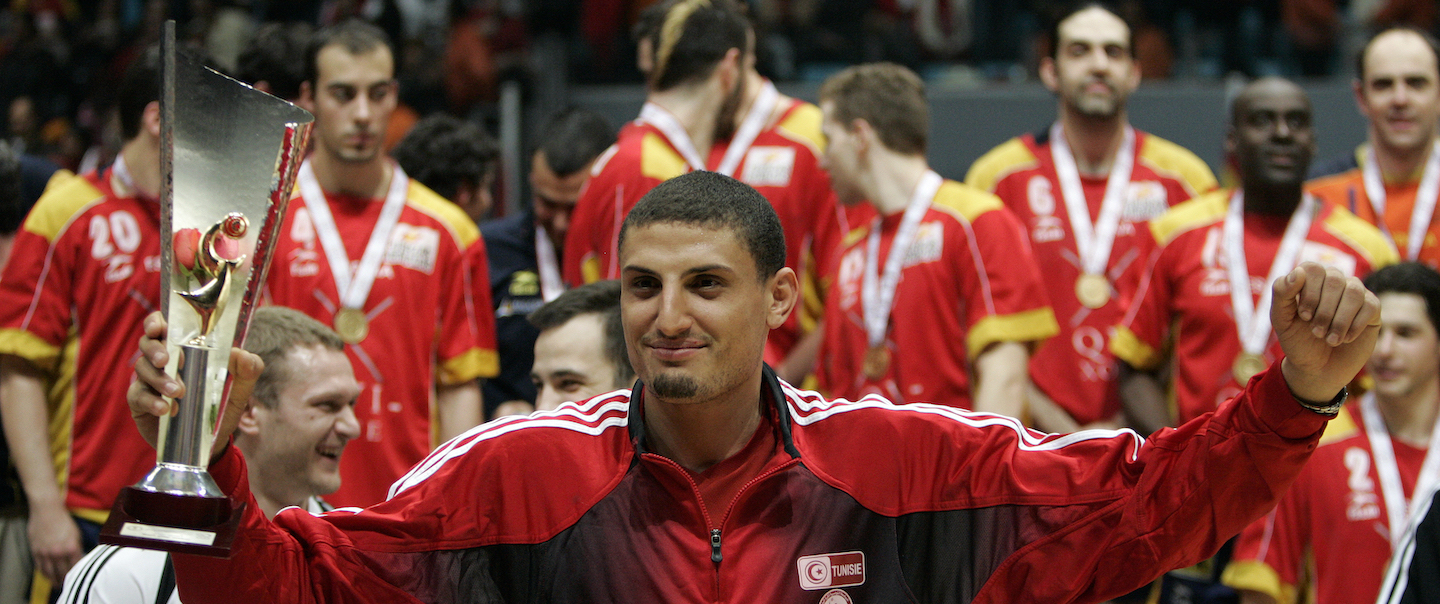 Tunisia did have something to celebrate at the end, with their left back Wissem Hmam ending as top scorer of the championship on 81 goals and being voted into the All-star team. Their fourth place on home soil remains their best-ever ranking.
IHF World Championships hosted in Africa
1989    IHF Women's Junior World Championship – Nigeria (NGR)
1993    IHF Men's Junior World Championship – Egypt (EGY)
1997    IHF Women's Junior World Championship – Cote d'Ivoire (CIV)
1999    IHF Men's World Championship – Egypt (EGY)
2004    IHF Men's Beach Handball World Championship – Egypt (EGY)
2004    IHF Women's Beach Handball World Championship – Egypt (EGY)
2005    IHF Men's World Championship – Tunisia (TUN)
2009    IHF Men's Junior World Championship – Egypt (EGY)
2009    IHF Men's Youth World Championship – Tunisia (TUN)
2017    IHF Men's Youth Beach Handball World Championship – Mauritius (MRI)
2017    IHF Women's Youth Beach Handball World Championship – Mauritius (MRI)
2017    IHF Men's Junior World Championship – Algeria (ALG)
2021    IHF Men's World Championship – Egypt (EGY)
IHF Congresses held in Africa
1986    XXI Dakar, Senegal (SEN)
1998    XXVII Yamoussoukro, Cote d'Ivoire (CIV)
2004    XXX El Gouna, Egypt (EGY)
2009    XXXII Cairo, Egypt (EGY)
2011    XXXIII Marrakech, Morocco (MAR)
via IHF